Nicholas Joseph Begich
April 6, 1932 – October 16, 1972
Nicholas J. "Nick" Begich was born in Eveleth, Minnesota the son of John and Anna Begich – both immigrants from the village of Podlapača in what was then Austro-Hungary and is now the Lika region of Croatia.
Nick grew up in Eveleth and attended St. Cloud St. Teacher's College (now St. Cloud State College) and the University of Minnesota. He also pursued a Doctorate at the University of Colorado and the University of North Dakota. In 1956 Nick married Pegge Jean Jendro and together they drove up the Alaska Highway in the middle of the Winter to Nick's new job as a Counselor at Anchorage High School. Nick continued to work in public schools until becoming Superintendent of On-Base Schools at Ft. Richardson and Elmendorf Air Force Base in Anchorage.
While pursuing an active career in education, Nick also engaged in Alaska Politics. He was first elected to the Alaska Senate in 1962 and was reelected in 1966. Two years later he ran unsuccessfully for the United State House of Representatives, and then was elected in a second run in 1970. While campaigning for re-election he, Majority Leader of the United State House Hale Boggs, aide Russell Brown and Pilot Don Jonz were lost on a flight to Juneau. The plane was never found. Nick, though missing, went on to win the 1972 Election. He was officially declared deceased on December 29, 1972. Nick was survived by his widow Pegge, and their six children: Nichelle, Nick, Tom, Mark, Stephanie and Paul.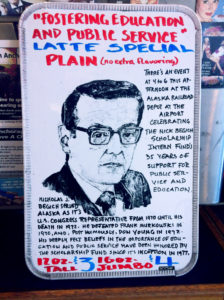 Nick's education legacy for Alaska was well-known. As a member of the Alaska Senate Nick fought to improve standards for education and for teachers. He also worked to improve working conditions, salaries and benefits for educators to ensure that Alaska would be an attractive destination for the America's best and brightest would-be teachers. Nick also worked to encourage the participation of younger Alaskans in public service through internships, by lecturing to schools, speaking at graduations and working to improve opportunities for young Alaskans to experience public service first-hand.
In Congress Nick was a champion of Alaska interests and led the passage of the most comprehensive indigenous claims settlement in American History, the Alaska Native Claims Settlement Act (ANCSA) which paved the way for the building of the Alaska Pipeline – the source of Alaska's wealth today. He also worked for clean water and sewer projects, and fought to improve public health. Throughout his life he was committed to public service at all levels.
Five years after his death some of Nick's former staff, friends and family together established the Nick Begich Scholarship Intern Fund to ensure his legacy of education and public service would not be forgotten and would serve as a model for other Alaskans. With Nick's long-time friend and former Chief of Staff Eugene A. (Gene) Kennedy at the helm, the Fund offered its first awards in April 1978. Since that time the Fund has provided over $350,000 in awards to over 350 Alaskans.
Today the Fund continues to offer scholarships and a Fellowship program, as well as maintaining a small archive of the papers and effects of Nick Begich and Gene Kennedy and other associated papers and books; working in partnership with other organizations to support youth-serving and educational activities; and supporting its many recipients in achieving their goals as educators, public servants and citizens.